My heart is so heavy today. I keep checking Twitter for updates on baby Cohen and just continue to pray.
I'm sure that a lot of you know
Megan
and baby Cohen through the blog world, but if you don't, please click on the button below to read Cohen's story. Our God is mighty and more than capable of healing little Cohen.
Please pray for Cohen, his mommy Megan, and his daddy Brent.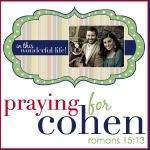 "Savior, He can move the mountains. My God is mighty to save. He is mighty to save. Forever, author of salvation. He rose and conquered the grave. Jesus conquered the grave."